Fab's AutoBackup 6 Pro è un must per i negozi di ripaazione di computer e per utenti esperti. È in grado di backuppare, recuperare o trasferire (dal vecchio drive o USB montato sul nuovo computer) file e impostazioni direttamente da diversi profili utenti simultaneamente. Questa versione può essere eseguita da ambienti temporanei simili a Win8.1SE e da regolari sistemi Microsoft Windows.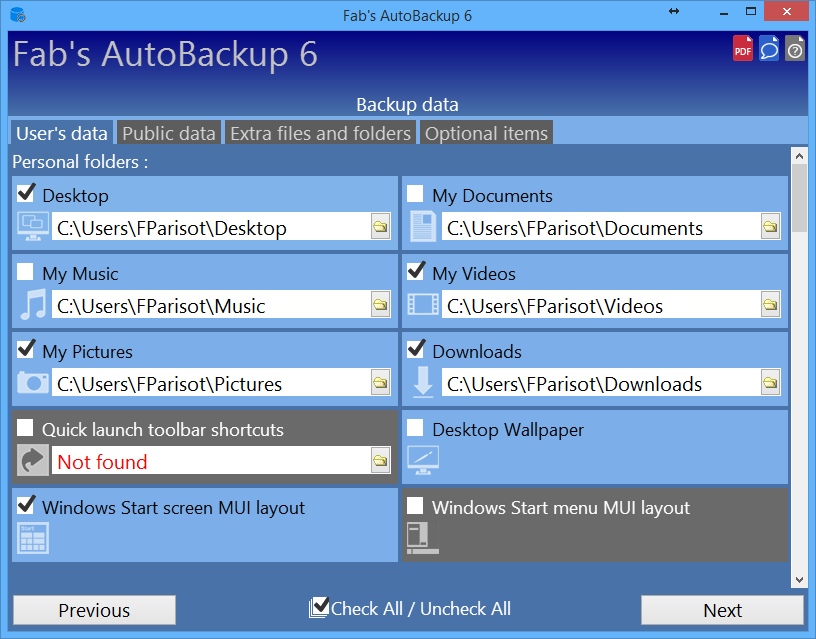 Cosa puoi salvare:
Windows desktop's content
Windows desktop's wallpaper
Quick Launch toolbar's shortcuts (for Windows XP and Vista : this tool bar has been removed from Windows since Windows 7)
Windows Start screen/menu Modern UI layout (only shortcuts, not applications)
My Documents
My Pictures
My Music
My Videos
Downloads folder (Windows Vista/7/8/8.1/10)
Windows Internet Explorer favorites
Windows Internet Explorer main start page
Windows Internet Explorer settings (proxy, security zones…)
Microsoft Edge favorites
Google Chrome profile
Chromium bowser profile
Apple Safari profile
Opera profile
Firefox settings : bookmarks, extensions…
Outlook Express messages and settings (mail accounts, rules…)
Microsoft Office Outlook PST/OST files and email accounts (messages, address book and calendar are stored in)
Outlook signatures files
Microsoft Office Outlook typed email addresses history
Windows Mail messages and settings
Windows Live Mail messages and settings
Windows Address book, used by outlook Express or Windows Mail
Mozilla Thunderbird messages and settings
PostBox messages and settings
IncrediMail messages and settings
Opera Mail
IM Client Microsoft Outlook like email client)
Windows Vista's calendar
Sticky Notes
Screen saver settings (enabled or not, password protected or not, delay before activation)
Documents templates
Skype data and settings
Trillian data ad settings
ICQ data and settings
Windows Gadgets (installed by user)
Network drives connections
Network places
Picasa (albums and database)
BlackBerry Desktop settings
BlackBerry devices backups
Logitech SetPoint settings
Microsoft IntelliType Pro settings
Microsoft IntelliPoint settings
Apple IOS devices iTunes backups (iPhone, iPod, iPad)
Common documents
Common desktop
Common pictures
Common music
Common videos
Public Downloads folder (Windows Vista/7/8/8.1/10)
Fonts (useful if you have installed some by yourself or bundled with software)
Microsoft Office XP, 2003, 2007 and 2010 activation files (Microsoft Office 2013 is not handled)
Modem settings file (fichier rasphone.pbk), except credentials
Intuit QuickBooks data (experimental)
NCH ExpressInvoice data
Steam (downloads)
Installed printers list
Additional files (manual selection or using wildcards search on selected operating system partition)
Additional folders
Solo per oggi, AutoBackup 6 Pro  è offerto gratuitamente.

Per usufruire dell'offerta dovete scaricare ed installare il programma cliccando sul link al fondo dell'articolo, dovete scompattate il file .ZIP, quindi avviare il file .EXE appena scaricato e installate il programma seguendo la procedura guidata di AutoBackup 6 Pro una volta completata l'installazione cliccate sul file di testo ReadMe.txt per sapere come ricevere la licenza gratuita in modo da attivare la versione completa di AutoBackup 6 Pro .
Potete scaricare AutoBackup 6 Pro gratis cliccando sul seguente pulsante: